This event is sponsored by 77Kids.com/American Eagle and TheMotherhood.com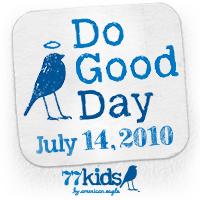 The children and I are excited to be heading out for the morning to bake and make special thank you's at the families and staff at Ronald McDonald House in Chicago. Upon our return to our town, with the permission of our locally owned grocery store, we will pass out 77 dollar bills!
Let us know if you will be doing something right where you are to celebrate Do Good Day with us! Those who leave a comment will be entered into a drawing here at Faith and Family Reviews for something special for being a participant giving back on Do Good Day!

Hope to give you updates later today or early tomorrow, complete with photos!
Share and Enjoy