I received the following product in exchange for writing a review. While I consider it a privilege to receive free products to review, my review is my honest opinion and thoughts of the product.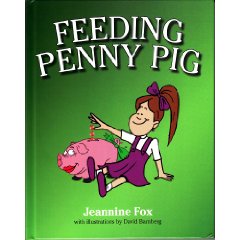 Money management is an important aspect in life. It takes time to develop the discipline of being good with money. Rare is the individual who is a natural when it comes to money, especially in this over-commercialized world in which we live. As parents, it is a part of our responsibility to teach our children to manage money. How many of you learned money management in school? I know I didn't, at least until I got to my third year in Bible school/college. They had a course based on Ron Blue's book, Master Your Money. Well, here is a child's book to get you started in teaching young children about money and how to be responsible with it and their chores – Feeding Penny the Pig
Feeding Penny the Pig is a whimsical children's story. Our younger ones enjoyed it, as it is geared towards 4-8 year olds. We all thought it was a cute story to help teach small children about money, as well as chores and work. There definitely aren't many books on the market that teach children about money management.
The author of Feeding Penny the Pig is Jeannine Fox, who is a Certified Public Accountant and a grandmother who is concerned with the future of her grandkids. She says, "Our country is paying the price now for overspending, credit abuse and other irresponsible money management. If we teach kids at a young age to save money, we can prevent these problems from happening again."
This book is available at major bookstores and costs around $14.95. For more information about Mrs. Fox, please visit www.mimisfunhouse.com
Share and Enjoy