I nearly forgot to post this! Our next new theme is Garden Tuesdays!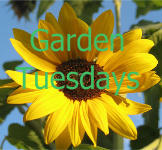 I had a book review to post for today, but couldn't find it in my files anywhere so I will have to post it next week after I rewrite it! Then after today's adventure to pick up two of these 4 Tier Greenhouses, I thought I'd post about them. It isn't a review per se because we just got them and I haven't had sufficient time to really put them through a tested, tried and true review.
However, to add a bit of a Thrifty Thursday tip here, these 4 Tier Greenhouses sell anywhere from $32-$59 but we got each of these for just $15! They are used, but in useable condition and will be of great help to get some plants started for fall harvest, since we are going to try our hand with at least a bit of succession planting.
While I was working this afternoon, the girls got more lettuce and some more cold crops planted. We are hoping for some faster germination compared to our direct seed planting. Here's to hoping and praying!
Share and Enjoy