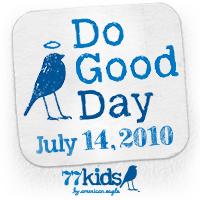 My children and I will be participating in the 77Kids.com and TheMotherhood.com Do Good Day on July 14th in Chicago. There are a total of 11 Chicago area bloggers and their children taking part in this great project!
We will be "Doing Good" for the Ronald McDonald house of Chicago (which Ronald McDonald House TBD). We will be preparing a meal for the families and providing them with some activity and donations of needed items.
Special thanks goes to 77Kids.com and TheMotherhood.com for giving us this opportunity to serve others and to teach our children how to "do good".
We'd like to encourage you, our readers, to think about "doing good" in your community that day. Whether that be holding the door open for an elderly person or a mom with her hands full of packages, pushing a stroller and chasing a toddler. Whatever you choose to do, please be sure to come back and tell us what you have done. There just may be an extra blessing for doing so!

77kids Website: http://www.ae.com/77kids/index.jsp
77kids on Facebook: http://www.facebook.com/77kids
77kids on Twitter: http://twitter.com/77kids
Hashtag: #77kids
77kids at Elizabeth Glaser Pedaids Celebrity Picnic: http://www.fitceleb.com/node/7927

Share and Enjoy