I received the following product in exchange for writing a review. While I consider it a privilege to receive free products to review, my review is my honest opinion and thoughts of this product.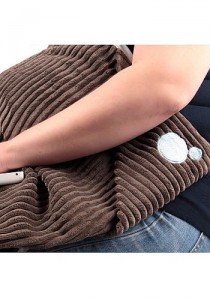 I received a new product to review (it did have to be returned though!). This new product on the market is called The Belly Blanket Luxe made by RadiaShield and one of a few pregnancy products now on the market with the focus of protecting the unborn. Belly Armor have specially designed these products with the purpose of protecting the unborn child from harmful radiation that we all are exposed to every day.
What is the problem with radiation? We all know that we live a technological world. It is a world that we all love and appreciate and even hate at times, but admit would be hard to live without now that we are use to it. But do we really know the long term affects of every day use of cell phones/PDAs, laptops/computers, power lines/cell phone towers, MP3 players, wireless networks and many other electronic devices? No, we don't.
I can be a bit skeptical at times about things because I think more studies need to be done over the long term and there is so many conflicting views about subjects like radiation exposure. Yet, most of us want what is best for our families and our mother's hearts are definitely in tune to doing what is the best for our children, which is why we don't mind spending time researching topics to figure out what is best for our family. That is what I have tried to do with this particular product, as you will note from the resources listed at the end of this post.
RadiaShield saw the need to provide an answer to consumer concerns about exposure to radiation, especially during pregnancy. They are also providing a solution to the problem with their Belly Armor. Belly Armor products are made with RadiaShield fabric and the highest quality textiles. I can verify that The Belly Blanket Luxe was very soft and comfortable when I tested it in my review process. It is made of a cotton micro-fleece that gives it an incredibly soft feel to it. The outer edge is satin and the backing is the RadiaShield fabric.
This blanket is not just for pregnancy, as it could be used while your baby is an infant too. Don't we all nurse or feed our babies while checking emails or chatting online or on our cell phones?
The size of the Belly Blanket is 30″ x 35″. It is machine washable in cold water with like colors, but it is to be air dried and no bleach. The Belly Blanket Luxe retails for $109.00 and comes in great gift packaging, which would make gift giving that much easier. See the photo below.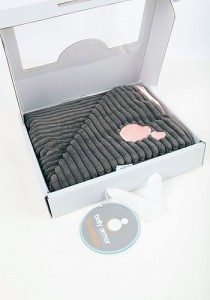 I have to admit that I like the concept of the Belly Blanket Luxe and that I really like the product. It really made me feel reassured that the baby in my womb was being protected when I was on the computer. I actually forgot about using it while on my cell because I usually use that in the car and I didn't take the blanket out of my office since it had to be returned!
What really got my attention and was a turning point in my skepticism was the Cell Phone Test they recommend doing (this is right on their website too):
Cell Phone Test
Note the level of cell phone signal you have.
Wrap your cell phone in a Belly Armor product.
After 30 seconds check your cell phone signal again – you'll notice it has gone down.
It really works. When we did this, we actually lost all the bars to our cell phone signal. They were gone. Only the little green tower left. That really left an impression on both my husband and I.
Belly Armor also offers The Belly Tee ($59.00), The Belly Blanket Chic ($69.00) and plan to come out with The Belly Band and The Belly Tank.
They are also offering Faith and Family Review readers a promo code: "faithandfam" for 15% off, and it is valid until the end of August.
Here are some related articles that I dug up online that may be of interest to you:
http://www.cellphone-health.com/blog/2009/10/who-study-shows-cell-phone-radiation.html
http://www.who.int/mediacentre/factsheets/fs193/en/
http://emf.mercola.com/sites/emf/archive/2010/02/16/how-the-media-lies-to-you-about-cell-phones.aspx
http://www.fibre2fashion.com/news/garment-apparel-news/apparel-technical-textile/usa/newsdetails.aspx?news_id=85973

http://gadgetwise.blogs.nytimes.com/2010/06/01/anti-radiation-products-with-some-science-in-them/
Share and Enjoy