This is a sponsored post.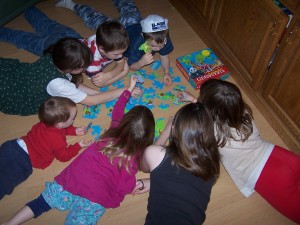 We have many educational toys in our home, as most homeschooling families do. But educational toys are not just a normal occurrence in the homes of homeschoolers, many parents desire their children's toys to have a multi-purpose.
So what educational kids toys can you find in our home?
Games
From Scrabble to Monopoly and quite a few in between. We also have a Math Facts game, memory card games, and many other card games that assist children in learning their numbers, as well as how to count and add.
Puzzles
Puzzles have always been enjoyable kids toys at our house. We have two or three large floor puzzles that are about jungle animals, bug and pond life, plus at least three or four different geography puzzles that all of our older children still enjoy doing on their own or with their younger siblings.
Then there are all the educational shapes, colors, numbers, alphabet, left hand, right hand wooden puzzles that we have for preschoolers and early elementary aged children. There are many different ones that I am probably forgetting we own.
Educational Toys
I think most of our educational toys are more for younger ages. Like our wooden clock and blocks, as well as shape sorter. We even have pull toy turtle that opens via its shell and fits three little baby turtles inside, all different sizes and colors to teach not only colors but big, bigger, biggest, etc.
Historical paper dolls can be very educational for younger girls, especially when reading a book series on a particular character or if you purchase the Dover brand, I know you get an overview of the character and/or time setting.
Dominos, jump rope, and probably many more that I am forgetting may be of interest to older children.
Do you have any favorite educational toys that you'd like us to know about? Let us know!
Share and Enjoy