I received the following product in exchange for writing a review. While I consider it a privilege to receive free products to review, my review is my honest opinion and thoughts of the product.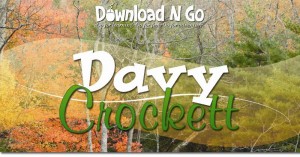 Davy Crockett was another hit with our children. They have seen a movie about Davy Crockett and knew quite about him already, but we still enjoyed doing the review of Download N Go's Davy Crockett as there was still much more to learn in this 5-day unit study.
Again, this unit study is set up much like the Wale Tales one that I just posted a review about earlier this morning. It utilizes a lapbook to keep all the information and activities in one place. The unit study itself contains activities for the children to do, links to online activities/articles, as well as a list of suggested books to read to learn more about Davy Crockett. It covered Davy Crockett's life on the frontier, history of Texas, patriotism, geography, vocabulary and more!
This was another positive lapbooking experience for our family. Our children had fun doing the activities and using their creativity to create their own unique lapbook. They were asking to do more each day so that shows you how much of a hit it really was!
As much as the Download N Go products were made for homeschooling families, they would be a great supplement for families using alterative schooling methods. Such as summer enrichment or just a fun learning activity to do with your children.
Don't forget about Download N Go's special offer to you below:
DNG has decided to offer a coupon code for 20% off multiple packs of the DNG units! The code is: DNG20PKS - just use that code at check out and receive 20% off any multiple pack purchase.
Purchase now at for only $7.95 plus your 20% off! AND another contest for you to enter…
THE PRIZE:
The Old Schoolhouse Magazine and Amanda Bennett Unit Studies have teamed up to celebrate the successful launch of Download N Go™ with a Sweet Treat Prize Package in The Adventure Begins … Giveaway!
They're offering one lucky winner the SWEET chance to go EXPLORING this FALL!
The entire FALL curriculum lineup of Download N Go™ (Wow! That's 19 studies!).
A $25 gift certificate to Baskin-Robbins (yummy ice cream).
A $25 gift certificate to Amazon.com (for those back-to-school supplies).
A $15 gift certificate to Starbucks Coffee (a special treat just for the teacher).
A full year's subscription to The Old Schoolhouse® Magazine (encouragement and resources all year long).
A "sweet" blue and brown Homeschooling With Heart tote bag (THE must-have accessory for FALL!).
ENTER HERE!
For more information just click on the icon above! Contest will run May 24 and through June 12!
Share and Enjoy