The following product was received in exchange for writing a review. While it is a privilege to receive free products to review, my review is my honest opinion and thoughts of the product.
My daughter was actually sent this gift set from Cinderella's Jewelry called, Pearls and Glitter in exchange for a review. Since I am the one with pierced ears, I thought I would also give Cinderlla's Jewelry some exposure by writing a review. This set is very nice and priced just right; only $18.00. It would make a wonderfully affordable gift for daughter, mom or grandma. But it is a pierced earring and necklace set. This particular set is sold out but Cinderlla's Jewelry has other styles available. Custom orders are also available upon request, so please contact the owner for details.
The earrings did not make my ears sore and are made with little posts. They are very comfortable to wear. The necklace looks elegant and wears well.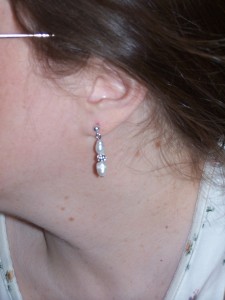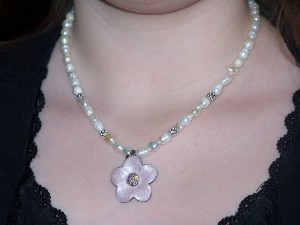 Pearls and Glitter (I used most of her description with my opinion sprinkled in since she describes it to a "t")
This elegant pendant is a splash of light purples/ pinks, light sprinkled glitter throughout, with is a cluster of diamond- like gems in the center as the "pollen", strung on a 16 inch strand of natural fresh water pearls and a few silver rhinestone spacers.
The clasp is different from what we've seen before, but I find it much easier to clasp and unclasp than the usual clasps on necklaces. Each piece is well made.
Cinderella's Jewelry – Fairy tale jewelry with a timeless touch – http://CinderellasJewelry.blogspot.com
Share and Enjoy