This review is done in cooperation with The CWAHM Blogging Team that I am a part of. I did receive free products, but that in no way affects my review.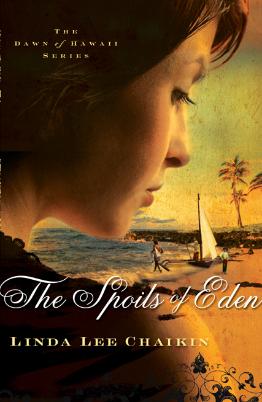 I really liked The Spoils of Eden. It is a Christian book. It was filled with historical facts (late 1800s) about the island of Hawaii. It also had an intricate story line of the conflicts between and within two wealthy Hawaiian families, some of whom are Christians and others who are not. The Spoils of Eden is a historical romance, so there is a complicated romance within its covers too. There is an interesting twist with the main character of the story, Eden Derrington, her purpose and focus on helping her father find a cure for leprosy.
Eden Derrington is a sweet Christian character. I admired her committment to Christ and how she boldly shared her faith and made tough decisions amidst her desire to please her absentee father and find her mother.
There are a lot of characters in this story, so it does require your attention at first so you can make the connections between the relationships within the book. If you want to understand the historical facts shared within this book, then I don't recommend that you read it in a hurry because those facts will be blurred by your speed reading!
The Spoils of Eden is Book One in Linda Chaikin's new series called The Dawn of Hawaii, therefore the story of Eden Derrington did not end with this book, but will continue in the next book of the series. That's what's hard after you read the first book – waiting to find out what happens!
This review may also appear athttp://radiantlit.com/
Share and Enjoy