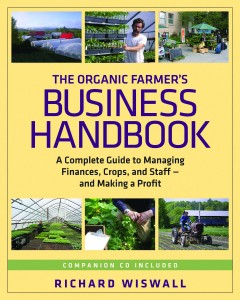 I realize this book may not be of interest to some of you, but in case there are aspiring farmers among our readers or in case aspiring farmers come across us via google or other sites, I thought I would share it. Plus, what I read gives you a sneak peek to yet another side of me and my family.
The book I am referring to is, Organic Farmer's Business Handbook. It was written by Richard Wiswall, a successful organic farmer who worked hard to get to where he is and wanted to share his experience and knowledge with other organic farmers. The book includes a CD with Excel worksheets that farmers may use for their own business.
I found that Mr. Wiswall provided some invaluable information that both beginning farmers and veteran farmers alike can glean from and use. He points out some important tax info and how to make a profit from an organic farm.
Our library ordered this book when I requested it and now owns it, so I have been able to get it out a couple of times this past year. However, I am hoping to add it to our home library at some point, especially once we start our commercial farm as I really liked it and think it should be on our shelf for quick reference.
P.S. I just borrowed it from the library for the third time!

Share and Enjoy