I received the following book in exchange for writing a review. While I consider it a privilege to receive free products to review, my review is my honest opinion and thoughts of the book.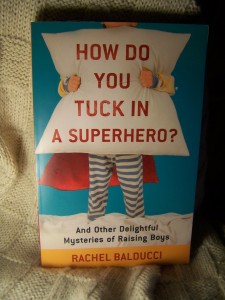 I mentioned that I had started reading a book back at the end of March about Life with Boys and have been trying to finish it up amidst everything else so I can post my review. So here I am on the last day of the Revell Book Tour posting my review. I have thoroughly enjoyed Rachel Balducci's book, How Do You Tuck in a Superhero? It has been a very good book. Rachel knows what life with boys is really like since she has five sons. In her book, she shares the mysteries of raising a crew of boys.
This book isn't about her spiritual journey in raising boys, so don't expect to see great exhortations about how the Lord has inspired Mrs. Balducci to parent boys. It is a book about the nitty-gritty details of boyhood. How Do You Tuck in a Superhero? is a refreshing look at life with boys. As I have stated, I have grown very frustrated with my boys on more than a few occasions. Mrs. Balducci helped me see the beauty and the normal-ness of what if means to be a boy. Like I said in my March post, I grew up with ALL girls. Having an all girl family is much different than having and all boy family or even a mixed gender family – so many differences that affect the dynamics of family life.
I loved the short chapters of the book – I think Mrs. Balducci realizes how busy we parents are! The short snippets of stories about her boys gave me a chance to either laugh or ponder the incredible task we have in raising boys. Her experiences also made my life with my own boys seem almost normal too. I love the fact that Mrs. Balducci has embraced her calling as a mother of all boys because I think it is important for us as mothers, as parents, to embrace the family He has blessed us with. He didn't make a mistake when He put our families together, but sometimes I think we can mistakenly think that when the going gets rough. If only we could all find joy in the tough, real moments of living together, how much better would those "bad" days be!
I think this book is a must read for anybody trying to figure out the male gender. As Dr. Kevin Lehman is quoted on the back of the book, "This book is a celebration of boyhood in all its glory."
"Available April 2010 at your favorite bookseller from Revell, a division of Baker Publishing Group."
Share and Enjoy