I received the following book in exchange for writing a review. While I consider it a privilege to receive free products to review, my review is my honest opinion and thoughts of the book.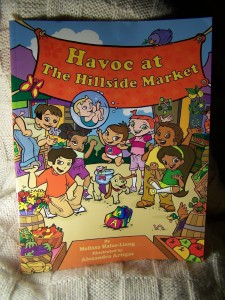 I won this book when I entered a contest for bloggers, so I really didn't receive it in exchange for a review but since I am reviewing it I will just keep my disclaimer in tact because I cannot remember everything that the contest entailed now!
Our older children thought the SuperKids Book, Havoc at The Hillside Market, was a cute story and educational. One of our daughters actually had to read the book three times in one sitting to the little ones! The illustrations were bright and the story held their attention. My oldest is already looking for the rest of the book series at our library!
The book has a whole page dedicated to introducing each character of the Super Crew (TM), who they are, what they do and what their names are. In the back of the book there are tips for those just getting started in teaching their children through reading. There is also a Happy Face Pizza recipe.
One thing that I noticed is that you really have to look at the pictures of the story because the words themselves do not reveal the complete story line. I thought that was rather odd for a children's book. It almost read like a comic strip on some pages.
Overall this is an adventure story that all our children enjoyed and we like the fact that it is reinforcing healthy eating habits.
Visit www.SuperKidsNutrition.com for more information and activities just for kids!
Share and Enjoy