I received the following book in exchange for writing a review. While I consider it a privilege to receive free products to review, my review is my honest opinion and thoughts of the book.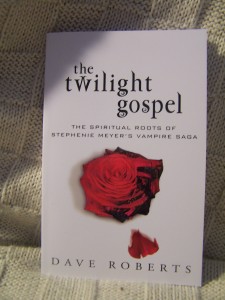 First, I want to clarify that I have not read any of the Twilight Saga book series. I am not really into those kinds of books, so you might wonder why I chose to read Twilight Gospel and right a review of it since it is based on the Twilight Saga. I decided to opt in for this review to have an open mind and because I wanted to see what author, Dave Roberts, had to say about these best-seller books.
I don't agree with everything Mr. Roberts had to say. In parts, I could see his reasoning but other times I found this book hard to follow, even with the details Mr. Roberts shared about the characters from the Twilight series. There were times I just couldn't get the connection between the scripture he used and the storyline of the Twilight books.
To me, it seemed like the author was almost justifying allowing Christian young people to read these books by trying to counter them with biblical insights. But I honestly don't think Christian young people should be reading books like Harry Potter and the Twilight Saga. Yes, I am one of those Christians, but hey, I am admitting it!
Perhaps for those who have already read the series, this book could be a useful tool. However, based on the limited details provided about the Twilight Saga book series in The Twilight Gospel, I wouldn't allow my teenager to read this book. She already asked and the answer is no, absolutely not.
No matter how people try to justify their reading material, reading about sex, vampires, and the occult has an affect on the way we think and act. Reading about sex at any age has the potential to arouse and awaken feelings that otherwise would lay dormant until the right time (marriage!). To be honest, I don't think Christian young people need anymore temptation in today's world. God's Word, the Bible, is clear on what we, as Christians, are to think on:
Finally, brethren, whatsoever things are true, whatsoever things are honest, whatsoever things are just, whatsoever things are pure, whatsoever things are lovely, whatsoever things are of good report; if there be any virtue, and if there be any praise, think on these things. Philippians 4:8 King James Version of the Bible.
For me there's no question as to why I cannot recommend The Twilight Gospel, read the verse above again if you still wonder why, unless you have already read the Twilight Saga book series. Maybe then it might be helpful. Maybe…
About the Author:
Dave Roberts is the author of the best-selling The Toronto Blessing and Red Moon Rising with joint sales in excess of 100,000. He is a former editor of Christianity and won awards for his work on Renewal magazine. He is a local church pastor and conference director for three major annual conferences on worship, children's ministry, and women's ministry.
Resources:
http://www.litfusegroup.com/Blog-Tours/the-twilight-gospel-by-dave-roberts.html
http://news.yahoo.com/s/ap/20100414/ap_on_en_ot/us_challenged_books
Share and Enjoy