I received the following book in exchange for writing a review. While I consider it a privilege to receive free products to review, my review is my honest opinion and thoughts of the book.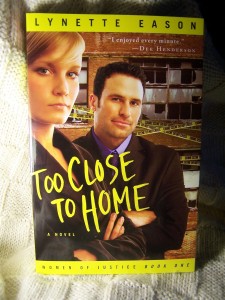 The book Too Close to Home was a refreshing change from the historical romances that I usually enjoy and receive for reviews. It is about Special Agent Samantha Cash entering an investigation with Homicide Detective Connor Wolfe to crack the case of what appears to be a series of unsolved murders and disappearances of teen girls. Of course, intertwined within the case is a budding romance too. The story was filled with suspense and intrigue. It kept my attention and made me want to read until I found who committed the crimes.
This story also comes close to home to parents or it should. Due to the advances in technology, we all need to be watchful of our children's activities online. I don't think a week goes by without there being an article on how the police have arrested some person for solicitating sex from a minor online. I also found the details of Too Close to Home interesting in how investigators track and find these perpetrators.
Too Close to Home should also give us, as parents, pause as far as how busy we are in relation to how much time we spend with our teens. Teens need us as much, if not more, than younger children because of the many temptations that are bombarding them. Are we available and open and ready to listen to them when they need us? If we aren't, then they are going to find someone else who is and just who will that person be?
I really enjoyed this suspenseful book and am looking forward to the next book in the Women of Justice Series, since Ms. Eason left me with a cliff hanger at the end of the last chapter! Reading this book was like watching a really good, clean detective show, seriously. Too Close to Home is Book One is the Women of Justice Series.
"Available April 2010 at your favorite bookseller from Revell, a division of Baker Publishing Group."
Share and Enjoy