I received the following book in exchange for writing a review. While I consider it a privilege to receive free products to review, my review is my honest opinion and thoughts of the book.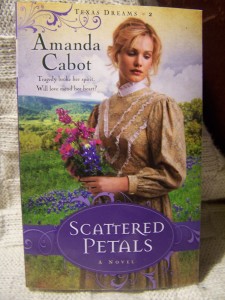 Scattered Petals is the second book of the Texas Dreams series written by Amanda Cabot. It is set in the wild west era (1856) and deals with very tragic events that occurred as a result of traveling across country from the East Coast to Texas. The experience of the main character, Priscilla Morton is devastating to her spirit and to her faith.
I devoured the book and cried all through out it. What can I say, I am a cry baby (wry smile). This book tugged at all sorts of emotions. I could only imagine what I would do and feel if I were the one who had to go through what Priscilla Morton did.
The way the author wound the story into one of healing, forgiveness, unconditional love and second chances makes it a delightful love story.
I found it hard to write this review because I really didn't want to give away any of the story. I thoroughly enjoyed it, but wouldn't necessarily recommend it for younger readers (11-18) until their mom has had a chance to read it first. The bible deals with many of life's issues and if our children are exposed to scripture then our children will already be familiar with of life's problems and sins. I would just hate to unnecessarily scare a young woman, especially one who might be prone to the sin of fearing too much.
"Available March 2010 at your favorite bookseller from Revell, a division of Baker Publishing Group."
Share and Enjoy