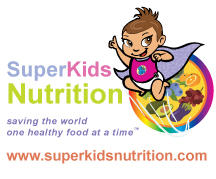 SuperKids Nutrition is a website/organization offering tools, resources, articles, books and expert advice on how to teach kids about proper health and nutrition.
Their mission:
is to create future healthier generations through good nutrition. SuperKids Nutrition aims to empower children and families to reach their full potential by having the energy and good health needed to accomplish their life goals. Read full vision statement…
Here's something new that I learned while visiting www.SuperKidsNutrition.com, its about pomegranate: it's a powerhouse of antioxidants. I did not know that, but it doesn't surprise me. We don't buy pomegranates usually, but we have been given them once or twice. The thing is I don't think I could stomach to try it when we did have it because of the way it looked inside. Some of our children did and liked it. We have had pomegranate juice. We all liked it. It was commercially made, but without all the bad sugar etc. We try to buy juice that is pure juice without all the added corn syrup, fructose, sugar etc.
I also did not know that pomegranate seeds are a great source of fiber. Another little tidbit is that pomegranate is native to Iran and symbolizes abundance, fertility and good luck (not that I believe in luck, but obviously someone does!) The full article about pomegranate is here.
Share and Enjoy