How many of you cut your family's hair? I do. With nine of us, it definitely saves us a lot of money over the course of the year. I didn't start cutting my husband's hair until we had our boys. It was after I started cutting our sons' hair that my husband asked me to cut his too. Let's just say that it's been a learning curve and there have been plenty of bad hair cuts around here!
Our older girls have always had longer hair styles, so they have usually just needed trims. I have cut my own bangs since my college days, so bangs haven't usually been too much of a problem unless I had a wiggly child! I really like basic cuts since that is about all I can do. I only use hair clippers (Wahler) and scissors, but really prefer hair clippers for the guys of the family.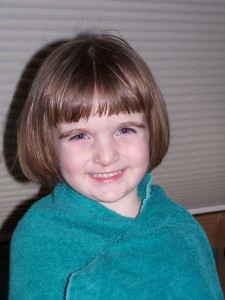 Blondie in our Wordless Wednesday picture and our daughter before her both look sweet with a shorter hair cut, like a bob. I like how it looks and how easy it is to care for. When I just had our three girls and even when I had five children, I would spend extra time just to do the girls' hair. Then time became of the essence in getting anywhere and having everyone ready on time, so the two younger girls get shorter hair styles now. While the older girls can style their own hair and can even give Blondie's a quick brush.
I just recently cut everyone's hair and was pleased with how Blondie's hair turned out. She was too!
Share and Enjoy