I received the following DVD in exchange for writing a review. While I consider it a privilege to receive free products to review, my review is my honest opinion and thoughts of this DVD.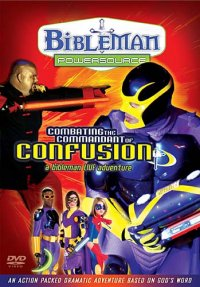 I wasn't sure what to expect when I signed up to receive this BibleMan DVD. I had only heard and seen a couple of products at our old bookstore. I was under the impression BibleMan was animated, I guess because of the toys, but I was wrong. This DVD is actually a live adventure with the actors performing on stage in front of a live audience. I really enjoyed the opening song! It was encouraging.
Of course, I loved the biblical principle presented in the DVD, which was based on Ephesians 6:11 (ICB) "Put on the whole armor of God so that you can fight against the devil's evil tricks." They did a very good job of showing us how we are in a spiritual battle and that we need to be prepared to fight by using the armor of God.
Our children have enjoyed watching The Commandant of Confusion and Chaos cause a disruption in the Biblical Adventrue Training Academy. They really liked it. Again, this is a product probably geared towards children under 8. I couldn't find any age recommendations, but I am going by my children's reactions and comments. As I have said before, I find as our children get older they are not entertained by the same things as the younger crew. Although, our nine-year-old daughter said that she likes BibleMan, so again, every child is going to be different.
Some Christian films in the past have seemed amateur-ish, especially once you have viewed anything Hollywood or Disney has created with their multi-million dollar budgets. However, BibleMan was like watching a live theater performance. I was pleasantly surprised with the content and production.
For more information visit www.bibleman.com/ BibleMan may be purchased at most Christian retailers, as well as at other major retailers like Walmart and Amazon.
Share and Enjoy