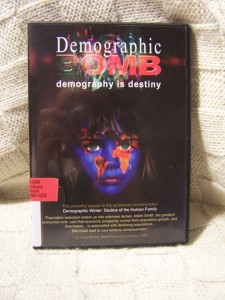 I forgot to mention in Saturday's post that we requested these two dvds -Demographic Winter and Demographic Bomb - from our interlibrary loan department. I love that we can save money or at least preview items before we commit to adding them to our family's resource library.
Demographic Bomb is the sequel to Demographic Winter. Where Demographic Winter was about the decline of the human family, Demographic Bomb is demography is destiny. "Where Demographic Winter predicted the financial crash of 2008, Demographic Bomb reveals how it is just beginning." (Taken from the back of the dvd, but slightly paraphrased).
It is truly amazing that demographers knew that we were heading for a population decline back in the '60s and 70's when the overpopulation idea was highly publicized with the book, "The Population Bomb," which had 13 printings by 1970. The Population Bomb was publicized by non-demographers and media.
I was impressed by how important the demographers viewed children to the future of the world's economy. It was refreshing, actually.
We need 2.13 children to replace the population according to the 2007 CIA Fact Book. Currently 90 countries have fertility rates less than 2.13. As the narrator of Demographic Bomb asked, "Anyone wonder if we've created these economic consequences?" And one demographer stated that a civilization turned against children is the revolution we are living in. How sad. But the proof is in the pudding, so to speak, since there has been a 50% decline in fertility in the last 50 years and the United Nations is still pushing to decrease those levels, especially in poor countries, because they want to eliminate poverty and control the population.
I don't know what you think of this, but I find it disturbing. And here is the American Heritage Dictionary's (English Language) definition of Population Control:
"Population Control. Noun: a government program to limit or slow population growth…as by birth control education, the wide availability of contraceptives, and economic incentives."
How many of us have been duped by this government program? And to think that it all started here in the United States and is now affecting the whole world. When will it end?
Quotes from the dvd:
"With the rise in concern about the population bomb, the field was suddenly awash with money." ~ Mathew Connelly, Columbia University, Author of Fatal Misconception
"We must have population control at home, hopefully through a system of incentives and penalties, but by compulsion if voluntary methods fail." ~ Paul Ehrlich, Standford University, Author of The Population Bomb
"It's an odd thing that an entire civilization would turn on children, but in many respects that's the revolution that we are now involved in." ~ Allan Carlson, President, The Howard Center
For more information, please visit www.DemographicBomb.com
Share and Enjoy