I received the following book free in exchange for writing a review. While I consider it a privilege to receive free products to review, my review is my honest opinion and thoughts of the book.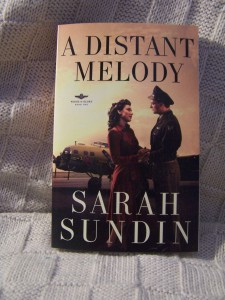 A Distant Melody was written by Sarah Sundin, a new and upcoming authoress. After I finished the book, I couldn't help but compare her to one of my all-time favorite Christian fiction authors, Lori Wick. A Distant Melody engaged me; I didn't want to put the book down and even declined free pancakes at IHOP on National Pancake Day to stay home to finish it. It is over 400 pages long and I finished it in record time – I didn't even pull an all-nighter to keep reading.
A Distant Melody is a a heartwarming-heartwrenching story set in the time of World War II. Mrs. Sundin's detail and research of B-14s had me asking my husband questions about them so I could see if I was picturing correctly how the crew operated.
You know a story is good when the characters come alive to you. After all, that is a huge part of what makes a book a great book. I am already looking forward to the second book.
One thing I will say is that it was pretty predictable in some parts, but other parts had me on my seat – obviously, since I couldn't put it down. And that's not to say that there weren't little things that I didn't agree with or that could have been left out; there were and I know that most would argue that these "little" things were in keeping with the time of World War II. To that I say, "To each his own."
"Available March 2010 at your favorite bookseller from Revell, a division of Baker Publishing Group."
Share and Enjoy