I received the following book and CD free in exchange for writing a review. While I consider it a privilege to receive free products to review, my review is my honest opinion and thoughts of the book.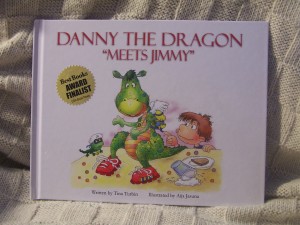 Danny the Dragon "Meets" Jimmy was written by author Tina Turbin. It is a book geared towards children ages 2-9, but even my older children enjoyed this cute whimsical story. It was refreshing to read a new book whose characters were obedient, respectful and showed manners! You don't know how many books that we have to discard because of negative character qualities – the reason is those attitudes are catchy, meaning children latch onto those undesirable qualities, especially when they are glossed over through the use of funny incidents. We have enough "catchy" attitudes of our own without adding more to them! (ahem…cough, cough)
Danny the Dragon is a neat little book that will require adults to unearth their buried imaginations as the way in which Jimmy meets Danny is not your everyday occurrence! But my children loved it, as well as the CD and DVD (which I will be posting a review on in a couple of weeks). The ending left us wanting more, so I hope Mrs. Turbin is going to write a series about Danny the Dragon!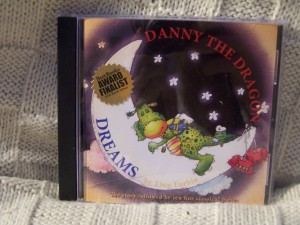 The CD is an audio of the book, so you moms who work at home or just need alone time to clean the house will appreciate having this tool for the times when you are rushed and cannot sit to read the book. It also contains some beautifully soothing classical arrangements that I am listening to while writing this review! I looked but was unable to find a sample track online… even on Amazon. So you will just have to take my word for it!

One thing I appreciated about Mrs. Turbin is that she desires to help the Celiac Disease Center at Columbia University Medical Center, so the proceeds of her CD will be going there:
Proceeds from the Danny the Dragon CD will go to the Celiac Disease Center at Columbia University Medical Center, one of the major research centers around studying and bringing awareness to celiac disease. It is one-hundred percent focused on studying celiac disease and carries out research connecting it with various other diseases which it is believed to lead to if left untreated. Its goal is to change the lives of celiac disease sufferers for the better around the world, a goal which it is actively achieving, little by little, every day.
Read more http://www.dannythedragon.com/uncategorized/proceeds-from-danny-the-dragon-cd-support-good-cause/
The book retails for $18.95 in hardcover, $8.95 in softcover. The CD is only $8.95. On the Danny the Dragon website they also offer a gift set of the softcover book and CD for $14.95. FREE shipping on all domestic orders! http://www.dannythedragon.com/buy/
I think I know what my niece might be getting for her birthday….
Additional Resources:
Share and Enjoy