This past week I learned of a FREE webinar with author and expert organizer, Jamie Novak. I signed up. Hopefully, I don't forget when March 11th rolls around, but I am hoping that I can glean some new ideas about how to declutter our lives in our small living space. I am always open to new ways of organizing and with spring around the corner, I am itching to make a huge purge of stuff from our home. With another little one on its way, we will need to free up space and I have a funny feeling most of my family is going to find the purge pretty painful, unless we come up with new ideas.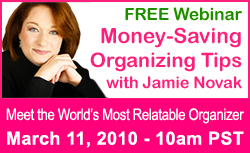 Her new book, Stop Throwing Money Away: Turn Clutter to Cash, Trash to Treasure, and Save the Planet While You're at It, is more than an organizing book — it offers new ways of thinking and inspires you to change your mindset about organizing, making money and saving the planet all at once. ~Tamara Monosoff, of Mom Inventors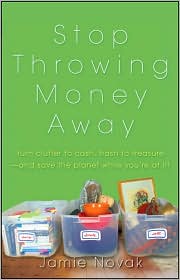 Barnes and Noble and other major bookstores carry this book. I think I will see if our library can get it first, before I buy it.
Maybe I'll see some of you on the call….
Share and Enjoy