I was sent a complimentary copy of Pajama School in exchange for writing a review. While I consider it a privilege to receive free products to review, my review is my honest opinion and thoughts of this book.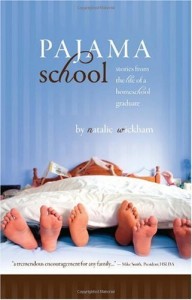 Pajama School was written by homeschool graduate Natalie Wickham. It is a book about her journey as a homeschooled girl, daughter and servant of the Lord.
I was encouraged by Natalie's story, yet in some ways it made me feel inadequate, only because she and her family were extremely involved in the homeschooling community and ministry. That just hasn't happened for our family, yet anyway.
I believe that Pajama School isn't just hope for homeschool moms, but for our growing young daughters. I couldn't help but think of my oldest at different points in Natalie's journey because Natalie is the oldest child of a larger than normal homeschool family and so is our oldest daughter. Our daughter has already asked to read this book and I will gladly allow her to. However, since she has a "wee" tendency to share what she reads, I asked her to wait until I was finished and wrote my review. I look forward to reading her review of it, as I think it will be inspiring to her; it will be interesting to see if I am right.

This is definitely a book that Christian parents /  homeschooling families can glean from. Natalie is a testimony to her parents and to the Lord for how He has graciously used her during her years of singleness, under the guidance of her parents. Even if you don't homeschool, it will allow you to understand what it means to homeschool -from a graduate student's perspective.
May the Lord bless her as she continues to seek and serve Him in all areas of her life.
More Resources and where to buy Pajama School:
http://www.sibropublishing.com/component/virtuemart/?page=shop.product_details&flypage=flypage.tpl&product_id=1&category_id=1&vmcchk=1
http://www.pajamaschool.com/blog/
Share and Enjoy