I was sent a complimentary copy of The Coupon Saving Mom in exchange for writing a review. While I consider it a privilege to receive free products to review, my review is my honest opinion and thoughts of this book.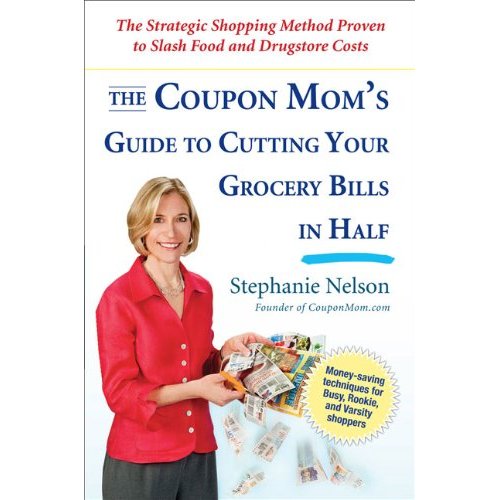 The Coupon Mom's Guide to Cutting Your Grocery Bills in Half by Stephanie Nelson is a book I thought that I would learn alot from, but found that my dislike for coupons made it hard to properly apply it to our family. This book is geared more towards someone who is new to coupon shopping and isn't use to shopping the grocery flyer sales. That's not to say that experienced frugal shoppers won't learn anything; they will. It's just that over the years as our diet has changed and we have tried not to buy convenience foods, I found that most coupons were not conducive to healthy eating. Plus, I always forget coupons and so does my husband, even when I used my coupon folder! Even now, if I find coupons we can use, my husband groans or rolls his eyes. So over the years, as you can see, we've developed a dislike of manufacturers' coupons. We will still use individual store coupons, if we don't forget.
If you don't know what kind of shopper you are already, Ms. Nelson provides a quiz to determine what kind of shopper you are and gives you tips on how to get started in using coupons for your grocery shopping, including where to look for coupons and how save money on your grocery bill by implementing her tried and true methods.
Ms. Nelsen shared legitimate websites where you can print off coupons, but again when I visited them, I only found a handful of coupons that could possibly be used by our family. She shares tips on how to save on clipping coupons through the use of your grocery store preferred shopper's card and how to shop at warehouse clubs, as well as the Super stores, like Super Walmart and drugstores, like CVS and Walgreens whose locations are convenient and prices exorbitant prices, unless you know how to shop wisely.
I believe each of our family's needs are so individual that each household's buying habits will probably affect usefulness of coupon use. For example, if a you happend to have a large family a co-op probably provides greater savings because you can buy large quantities for much less than grocery store prices. We shop at Country Life Natural Foods for organic food in bulk and have used Natural Foods in the past as well. I also find the chapter on buying organic food was lacking. She doesn't even mention buying from local farmers or the healthier alternative of pasture-raised meat, but that is another topic that could fill a whole other blog post. Nevertheless, I still think she has created a wonderful resource that will help many families save money. I just didn't see how I could save any more money on our grocery bill since we buy alot of organic products and personal personal hygiene items to stay away from chemical ladden products as much as we are able since some of our children have had reactions over the years.
I do plan to require my girls to read this book as part of their school curriculum (we homeschool) so they can glean from the things Ms. Nelson shares because I want them to be prepared for real life and their future situations may be different than mine.
If you need to work on saving money and need a tutoring lesson in shopping frugally, The Coupon Mom is available at any major bookstore and retails for $15.00.
Here are websites Ms. Nelson includes in her book:
http://www.couponmom.com/registration
http://coupons2.smartsource.com/smartsource/index.jsp?Link=WOOX5QMOGEYUM
http://print.coupons.com/couponweb/Offers.aspx?pid=11540&zid=bm91&nid=10&bid=alk0211100227bb8235a4f17216
Share and Enjoy