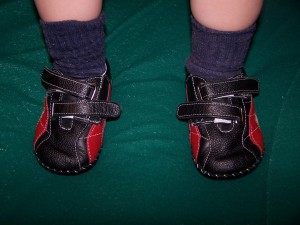 Last month I bought a pair of Pediped Originals – Zach Black/Red - for our youngest son. They were having a Make-A-Wish Promotion that enabled shoppers the opportunity to purchase shoes, with half of that purchase price going to the Make-A-Wish Foundation. I thought this was a wonderful opportunity to try a product that I had heard and read a lot about, as well as support a charity that helps terminally ill children at the same time. I like it when I can do that.
My son loves these shoes! This is the first pair of shoes he has kept on since he started wearing footwear! Occasionally he will take them off in the van when we are going out, but once we are out, he keeps them on very well. I am so impressed that I want to buy another pair for him in the next size with his birthday money!
They are well made, soft soled with velcro closures.
These are one of the cheaper pairs of Pediped shoes, priced at $23.00. So I basically bought my son's shoes for $11.50 and gave $11.50 to Make-A-Wish Foundation.
I even bought my daughter sandals for the summer, but they just fit her so I had to send them back for a larger size in order for them to fit her once the warmer weather arrives. The new size has not arrived yet. I'll probably wait to do a review of those in the summer.
For more information about Pediped visit their website at the red link provided.
Share and Enjoy