I received this book for free in exchange for writing a review. While I consider it a privilege to receive free products to review, my review is my honest opinion and thoughts of Miracle in Sumatra.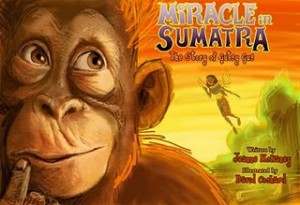 Miracle in Sumatra is a children's storybook written by Jeanne McNaney. This is Ms. McNaney's second children's book. Both books have been written in a way that will help parents and teachers educate children about wildlife conservation and endangered species preservation. A portion of the sales from her books also goes to support each of these causes.
This cute story is about a young orangutan named Gus who meets a young human girl. It is a story that teaches children what can happen when man gets greedy and forgets to think about what is best for animals and the environment. Gus is called upon to help his parents and the rest of his species with the help of his new human friend. With the encouragement from his guardian angel, he exhibits bravery and belief in himself in a dangerous situation that saves the whole community of orangutans and challenges the views of human trappers. Other virtues "Gutsey Gus" exhibit are compassion, forgiveness, love and strength.
Our six younger children said that they liked this book. They thought it was "good", "interesting" and "cute". It is definitely written in such a way to appeal to the younger audience and their imagination.
Miracle in Sumatra is available at:
•Amazon.com
•BarnesAndNoble.com
•Borders.com
•Buy.com
This book is a hardcover and retails for $16.95.
Share and Enjoy