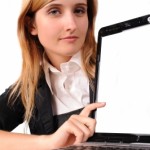 The Work At Home Woman website has a plethora of resources for the woman working form home. When you owrk form home it is important to not only have a resource list but also a support network. TheWorkAtHomeWoman.com provides this and more.
Holly Resisem Hanna, owner of TheWorkAtHomeWoman.com, has created a way to help those of us working from home while raising our children. Through her website she offers ways to promote your business or blog for free. One of them is by simply writing a blog post about TheWorkAtHomeWoman.com, like I am doing now, but the current opportunity ends tonight, January 15th – Sorry! Another way is by submitting a guest blog post and lastly, you may even submit businesses and blogs for "Blog/Business of the Month" simply by subscribing to The Work At Home Woman's newsletter. Pretty painless, wouldn't you agree?
In addition to these free promotional tools, there are advertising opportunities, job listings and a wide range of articles related to being a work-at-home-mom. So be sure to check it out for yourself at www.TheWorkAtHomeWoman.com
Thanks, Holly!
Share and Enjoy