Keeping my baby safe is the most important thing I can do.  I never realized that even clothing can be harmful to a baby's skin.  With Cutie Bees, I never have to worry about the safety or cuteness of my baby.  Cutie Bees is a company dedicated to creating safe, eco-friendly, beautiful, and affordable organic baby clothing.  They use only 100% GOTS certified organic cotton.  I love this since many of the regular cotton made clothes can cause redness, itchiness, or rashes on baby skin.  They can also contain harmful chemicals which are associated with dermatitis, asthma, and cancer.  With Cutie Bees, their clothes are always free of harmful chemicals.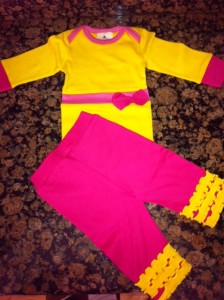 Besides being organic, Cutie Bees clothes are absolutely adorable!  I had the opportunity to review their Pink Lemonade Organic Bodysuit and Pants set.  When I first opened it my mouthed dropped in awe of how adorable it was!  The bright yellow complimented the bright pink perfectly.  The pink stripe across the tummy with the pink bow was a perfect addiction to the bodysuit.  The neck was stetchy enough to easily slip over even larger heads.  The matching stretchy pants had cute little yellow ruffles around the bottoms of the legs, making it a perfect match to the bodysuit.  The only thing I wish it had was some matching yellow ruffles on the butt.  I loved how soft the outfit was; it almost felt like silk.  This is a very high quality baby outfit.  I was very impressed.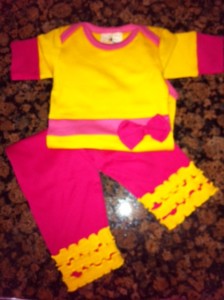 Cutie Bees offers clothes for boys, girls, and even neutral items.  They have everything from pants and dresses to jumpsuits and onesies.  They even have giftsets already made up that would be perfect for any baby shower.  I would highly recommend Cutie Bees.  Not only are their clothes adorable, organic, soft, and machine washable, they are very affordable.  Check out their website, you won't be disappointed!
In honor of Earth Day, Cutie Bees is currently running a sale. With the code EARTH22, shoppers receive 22% off and free shipping (valid through May 15).
Share and Enjoy