Yesterday was a busy day as we tried to get some of our garden tilled and planted. Due to baby wanting to nurse, I was not too much help, so our second oldest took over tilling (very hard even with a tiller!) She's sore. I keep telling her to put Deep Relief on, as it is an essential oil blend that soothes sore muscles. My oldest daughter made weeding our family garden fun for the younger crew by telling stories to them to make them forget they were even working! My husband started to build our new composter that I won in an online giveaway. It can hold up to 600 lbs of compost! Much larger than the one we had at the townhouse. He got the stand completed before it started to rain and I had to leave to pick up more critters.
Bunnies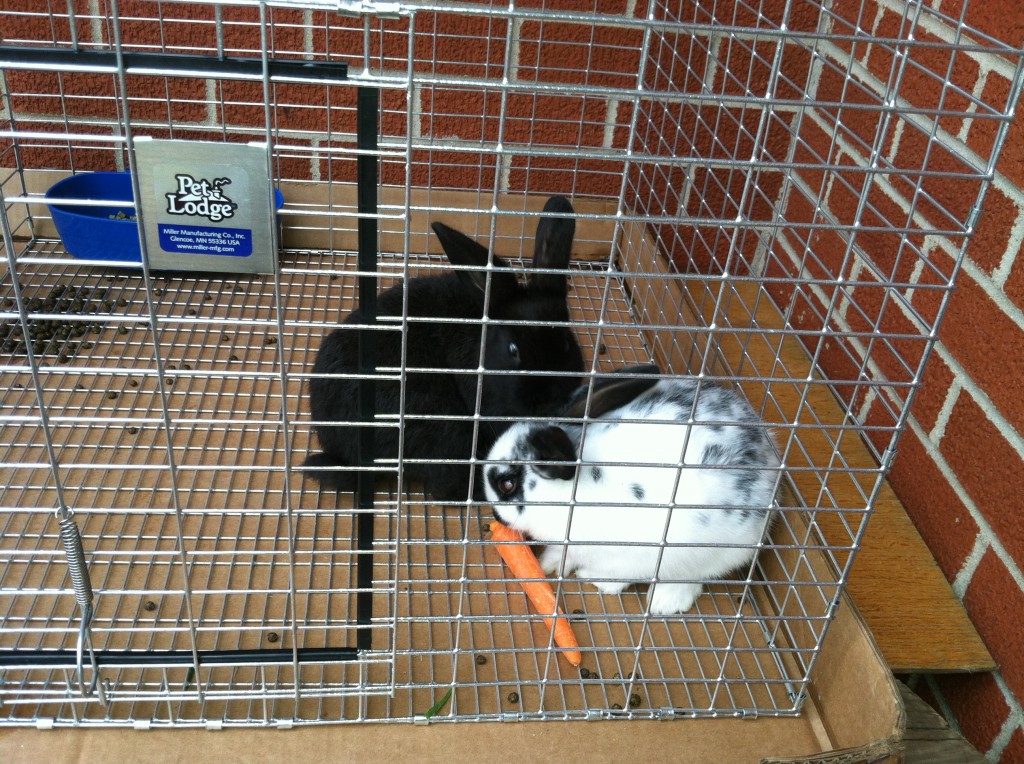 This is the cleaner cage of Luna's.
My husband built 2 rabbit cages yesterday as well. I took one with me to pick up the bunnies. What funny creatures they are! We have them in separate cages and the black and white one now named Luna (formerly Lucky and Houdini) is very neat. We think she's a female because she is so neat! Ha! She poops in one spot and pees in one spot. Darth Vader (formerly known as Java) could be Houdini as he has seems to want to get out of his cage. He is messy. His droppings are all over the place getting smooshed since we do not have them set up to just drop their droppings onto the ground (fertilizer for the garden!) yet because the children do not want them far from the house in case predators get them. Sigh. Now we have to wait for Padfoot to get bigger to ward off predators. At least he is growing up with all of these critters so he will know they are "his" domain. Another reason for getting a puppy since an older one could cause trouble by attacking the livestock etc.
Padfoot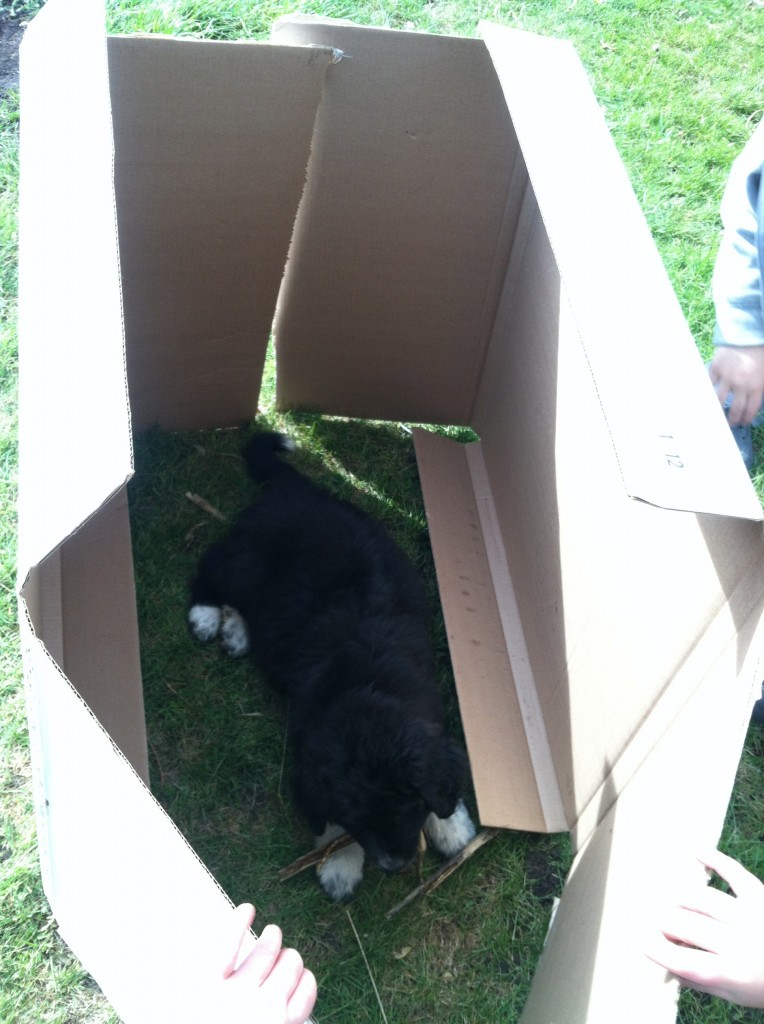 The children playing with Padfoot with the box from the rabbit cages.
Speaking of Padfoot. He slept in the garage with the boys on Saturday night and let's just say our boys do not wake up easily for Padfoot went several times in the garage. My husband and I quickly decided it was time to introduce him to his dog house. Uh-huh. The children don't want him so far from the house either since he's so little. So being soft parents we caved and let Padfoot sleep on the patio where he usually spends his days. Wrong decision. That dog is spoiled already and did not want to be by himself. He whimpered and whined all night outside OUR bedroom! He's grown up in a barn and he's at our house half a week and doesn't want to be outside at night? Come on! We are determined to get him back to his roots, after all he is a FARM dog.
Now, he's been sleeping all day since he wore himself out whimpering all night. I've told the children to tire him out today so he'll sleep tonight.
Ducklings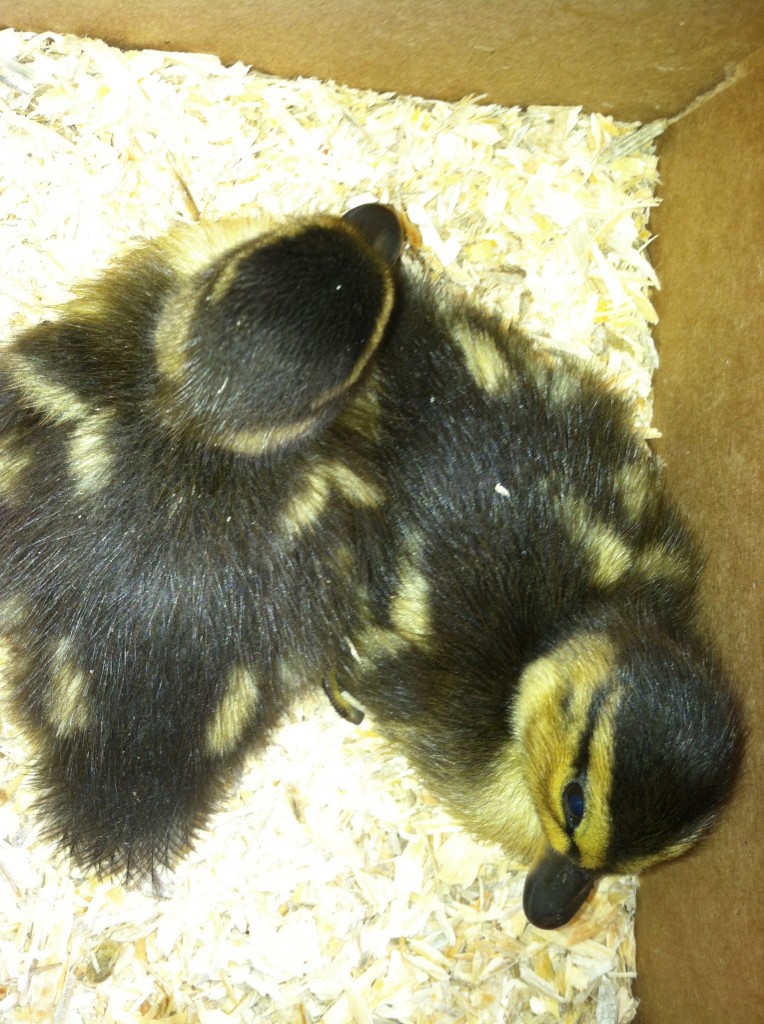 When we picked up the bunnies yesterday we also had to stop at a farm that runs a petting zoo as they wanted a couple of turkey poults. We exchanged them for…..? My husband didn't want any more bunnies, I would have preferred a few bales of hay, but didn't have room in the trunk for those so we got a pair of mallard ducklings. Remember the book, "Make Way for Ducklings"? Yep, we have two of those. They are very skittish compared to even the turkeys.
Turkey Poults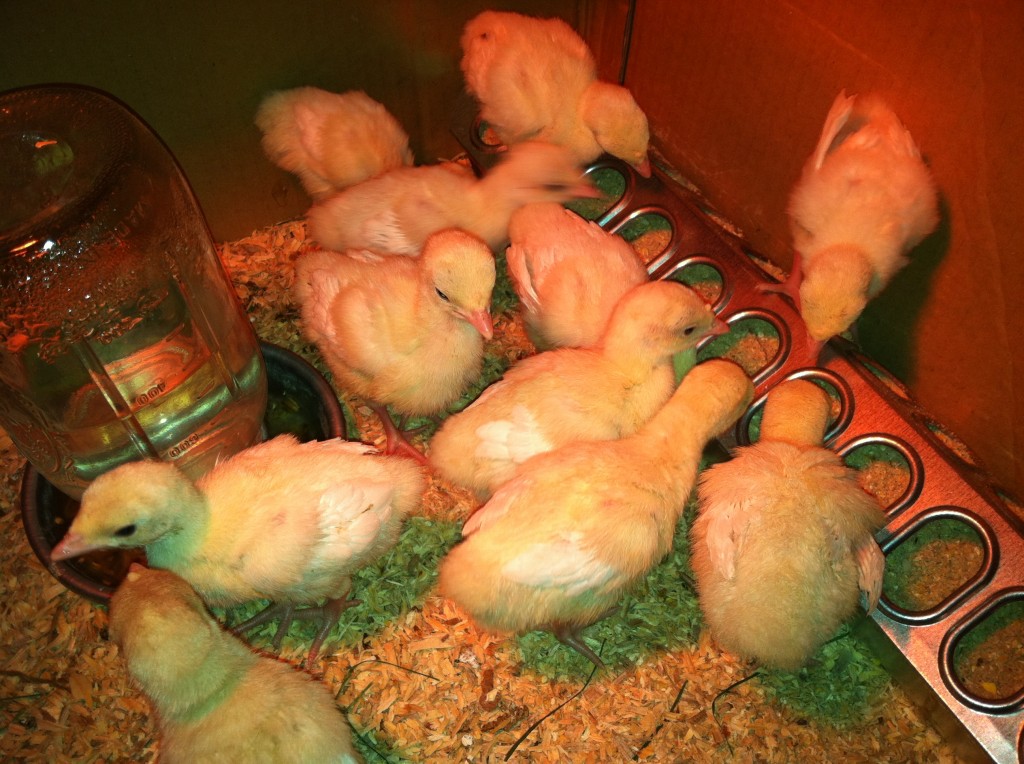 We didn't dare put the ducklings in with turkeys because when we got home from picking up bunnies and ducklings we discovered a dead turkey.

I'd be lying if it didn't affect me. It made me sad. I questioned what we had done wrong, did we handle them too much? Life and death are a part of life on a farm but don't ever fool yourself into thinking it's no big deal. It made me feel like a failure, even though turkeys are known to have high morality rates, even though they are stupid enough to run their own fellow poult over even with just 12 of them in the box. Down to 11 turkeys and counting, praying the rest make it unscathed. You can see how much they have grown already. Their white feathers are coming in too.
Baby Chicks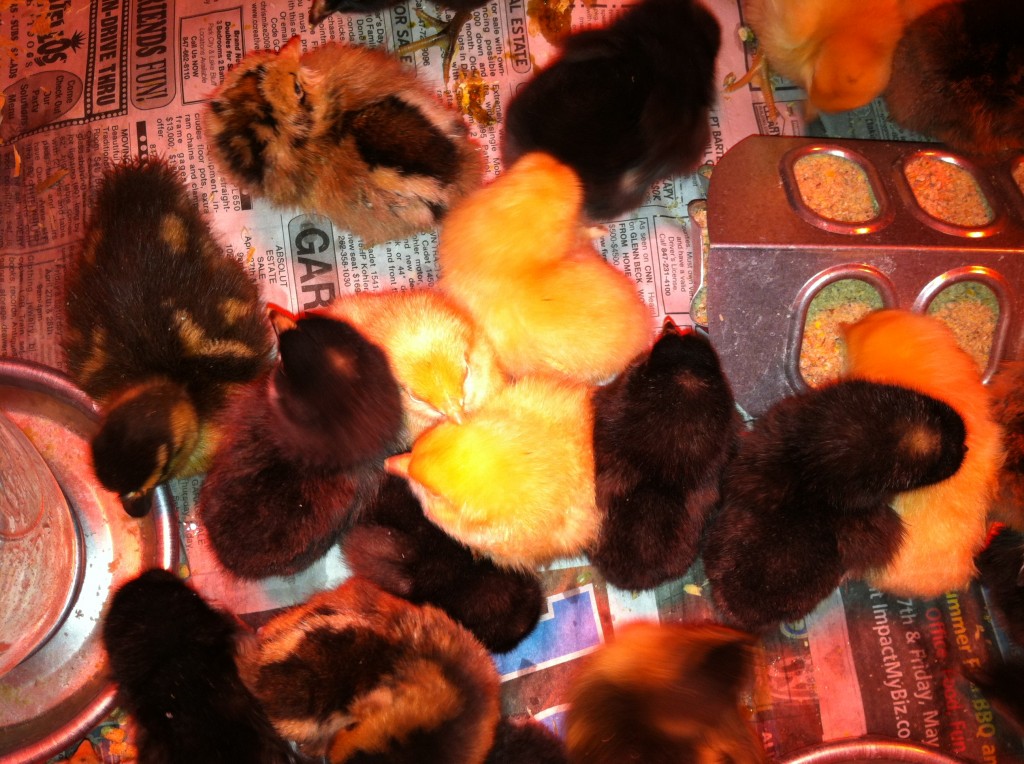 All 40 of our baby chicks arrived safe and sound. 3 days old. Though the hatchery mixed up our order, which I still have to call about. They are smaller than the ducklings so we put them with them. The ducklings seem happier now with the chicks. Before the chicks arrived the ducklings huddled in a corner together. Now they mingle and are quite lively.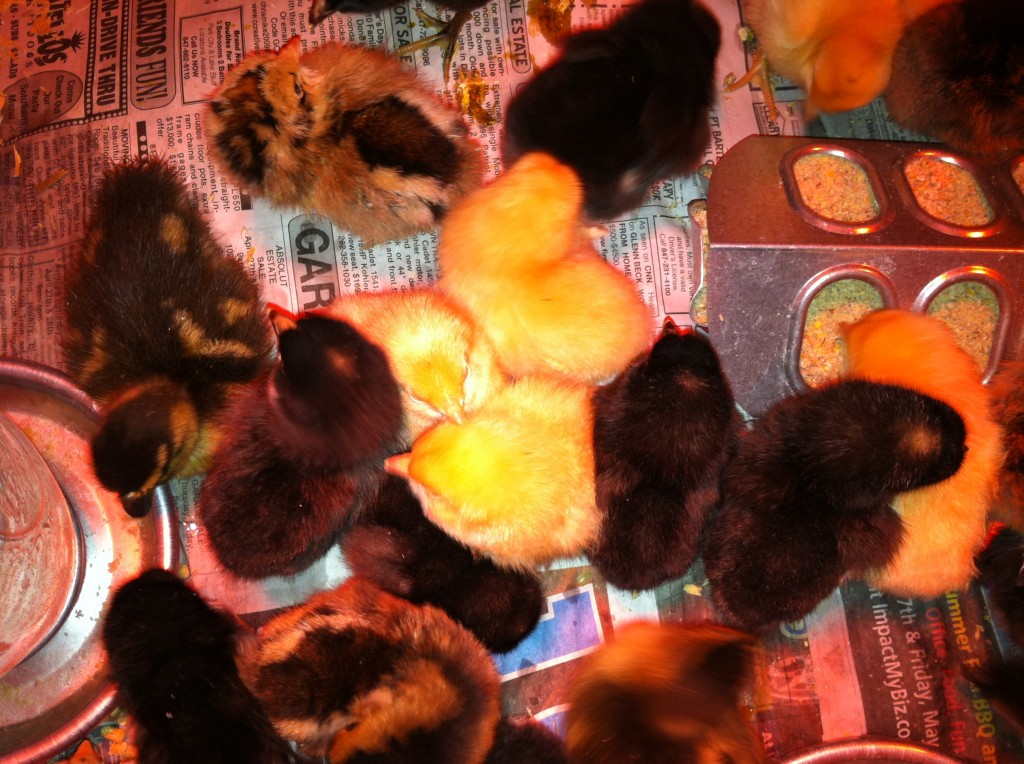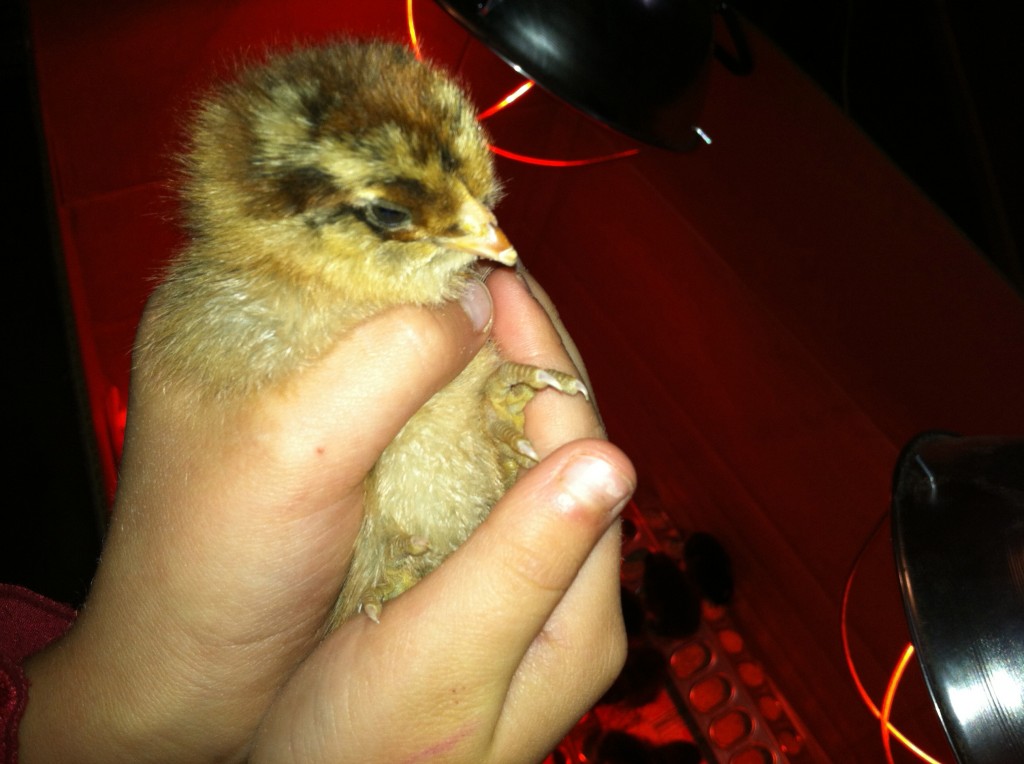 We won't be lacking in stories with all of these animals, that's for sure!
All photos are mine. I was too lazy to watermark them! And in the words of my daughter, please do not steal them! If those that steal photos even read blog posts!

Share and Enjoy