I will admit I am pretty much a home body. My husband and I are not apt to go on dates or it's very rare. I have never gone anywhere overnight without my children. I heard some of you *gasp*! The closest I have come to doing so is when I went home to Canada when my dad was sick back in 2002, even then I had a 4-month old with me! However, that is about to change come May 4-6th when I attend the 3rd Annual Brandcation Bloggers Gone Coastal. Call it a mommy vacation, it won't really be a blogging vacation since I will still be doing some social media stuff, besides the whole event is centered around bloggers and blogging! I have never attended a blogging event either and am very excited and nervous now that I have taken the step of faith bought my ticket, paid for my lodging and booked my airfare! I have never met any of these women except for our online interaction, but I have learned a lot from many of them.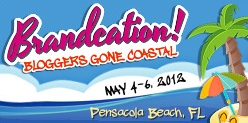 Brandcation
What is Brandcation anyways? It an annual event that is only open to a select few bloggers – only 30 tickets are sold. Once they are gone, they are gone. I got one of the last few, I cut it that close! Only about 5 PR tickets are sold. Incredible brands sponsor this event to keep costs low for the attendees and an amazing group of women organize all the activities! (Thanks Trisha, Lynsey and Kim! And any others behind the scenes!)
There are no classes or workshops, all networking is done in conversation making it personal, enabling attendees and PR to connect face to face real life style.
I have wanted to go the last two years but have been unable to due to being pregnant and having a baby under a year. I still can't believe I am going this year!
Let the Fun Begin!
P.S. If you happen to be a brand or company reading this and think my blog compliments your product or service, I am seeking sponsors for this event. Please contact me for more details about partnering with me to share your brand with 30 other bloggers. Thanks!

Share and Enjoy