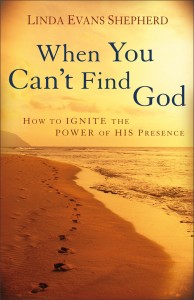 The title of the book I recently read for a review was very fitting for what my husband and I have been going through for the past three years, "When You Can't Find God." It seems that more often than not when circumstances spiral out of our control that God seems to be far away from us. We got through reading the first three chapters together before I had to speed ahead to write this review. However, we both have enjoyed the insight that Linda Evans Shepherd offered in her new book.
From envying others, especially those who do not know God – ever done that? Believe that celebrities etc. have it all and we Christians are left with all the heartaches? Yep, me too.
Comfort and prosperity have never enriched the world as much as adversity has. ~ Billy Graham, quote that starts Chapter 1 of When You Can't Find God
To our burdens that Jesus promises to carry, our hurts He promises to heal and our bitterness He promises to take away.
We are all faced with a series of great opportunities brilliantly disguised as impossible situations. ~ Charles Swindoll, quote that starts Chapter 10 of When You Can't Find God
Linda gives us hope with her words of understanding, scripture verses and stories of how God shows His presence amidst difficulties, with real life examples from the lives of others. Ultimately peace and joy are ours if we only allow Him to bring us to ourselves to receive it with His help and power.
Perhaps God brings us to the end of our resources so we can discover the vastness of His. ~ Neil T. Anderson, quote that starts Chapter 12 of When You Can't Find God
This is a wonderful book that allows us to regain our focus as we walk through difficult circumstances. We highly recommend it.
"Available May 2011 at your favorite bookseller from Revell, a division of Baker Publishing Group."
Share and Enjoy