Faith and Family Reviews received the following product in exchange for writing a review. While we consider it a privilege to receive free products to review, our reviews are our honest opinion and thoughts of the product.
This is a rare review given by my husband, a man of very few words, as dictated to me.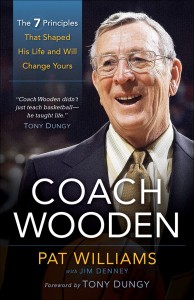 Coach Wooden was a legendary UCLA basketball coach. Pat Williams has written this book  to share the story of the legacy Coach's father passed on to him – The 7 Principles that Shaped His Life and Will Change Yours. It is a story that continues to impact lives, including mine.
It was impressive to find out that when Wooden graduated from eighth grade his father gave him the 7 Principles on a handwritten card and said, "Son, try to live up to this." That touched me and here are those principles:
– Be true to yourself.
– Help others.
– Make Friendship a fine art.
– Drink deeply from good books, especially the Bible.
– Make each day your masterpiece.
– Build a shelter against a rainy day by the life you live.
– Give thanks for your blessings and pray for guidance every day.
I  thought this book about Coach Wooden was great. I loved many of  Coach Wooden's little sayings, but especially these:
"The worst thing about new books is they keep us from reading old ones."
"Discipline yourself and others won't need to."
"Failure to prepare is preparing to fail."
"What is right is more important that who is right."
"The best way to improve the team is to improve yourself."
"Don't let what you cannot do interfere with what you can do."
One of the stories I appreciated, because I have always been of slender frame, is the one Jamaal Wilkes (Page 168) shared during  Coach Wooden's uology about Coach's underrated sense of humor:
I was selected by the Warriors with the 11th pick of the first round of the NBA Draft. There was a great deal of concern about my slender frame and whether I could hold up under all the pounding in the NBA. A sportswriter asked Coach about my chances of making it in the NBA, and he said, 'Well, he'll never pull a muscle–because there are no muscles to pull.
This made me laugh. Coach Wooden was a great man and this is a book that should be read by all, but especially men.
"Available February 2011 at your favorite bookseller from Revell, a division of Baker Publishing Group."
Share and Enjoy