More exciting news from our great PR folks and Paula Deen and Kraft! Starting July 19, Real Women of Philadelphia begins a new opportunity for both men AND women- a new recipe contest with $40,000 in prizes to be won. At the end of each week, 5 recipes will be chosen, and each recipe will be awarded a $500 cash prize- that's $500 per day of the contest!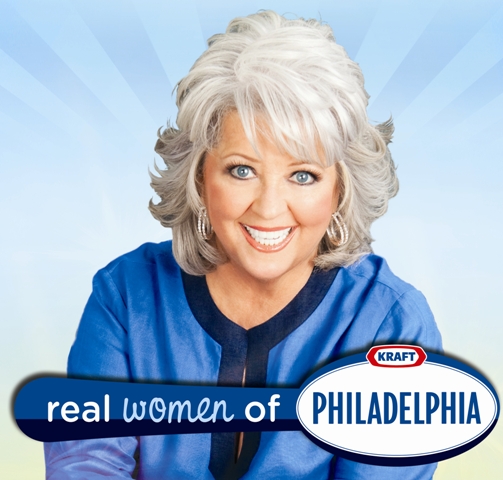 All you have to do is submit your favorite recipes made with Philadelphia Cream Cheese, according to the recipe category and theme for that particular week.
And like I mentioned, this contest is open to both men AND women!
PAULA DEEN, KRAFT GIVE AWAY $40,000 IN PRIZES FOR "REAL WOMEN OF PHILADELPHIA" RECIPE CONTEST
Enter for a chance to win July 19 –November 7
Grab your mixing bowls and oven mitts!
Paula Deen and PHILADELPHIA Cream Cheese are teaming up to give away a total of $40,000 as part of the "Real Women of Philadelphia" recipe contest. Men and women nationwide can enter for a chance to win $500 and the opportunity to contribute to the Real Women of Philadelphia cookbook by submitting their favorite recipes made with PHILADELPHIA Cream Cheese. Each week there will be a new recipe category and theme requirement for entries. One recipe will be chosen daily Monday – Friday from July 19 through November 7 for a total of 80 winners.
To enter, register at the Real Women of Philadelphia website at www.realwomenofphiladelphia.com.
Additional contest information, recipe themes and requirements is available at: http://www.realwomenofphiladelphia.com/recipecontest-rules
The contest is part of the Real Women of Philadelphia community which launched in March 2010. Members have created their own site profiles, uploaded pictures, written articles and self-produced over 5,000 entertaining short videos showcasing how they use PHILLY in their favorite dishes. The site has received more than 590,000 unique visitors and the cream cheese-based recipe videos have received millions of views across various media channels and the RWOP site.
Share and Enjoy