77 Top Mom Bloggers in 11 Cities
To Host the First-Ever "Do Good Day"
Happening on July 14th, 2010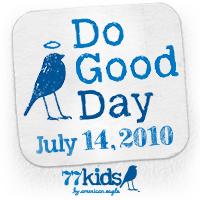 [Pittsburgh and Larchmont, NY] – July 12, 2010 – In eleven cities on July 14, 2010, a total of seventy-seven of the country's top mom bloggers and their kids will carry out random acts of goodness and kindness on the first-ever "Do Good Day".
Through a partnership with TheMotherhood and 77kids by american eagle®, Do Good Day will take place in: Boston; Cherry Hill, NJ; Chicago; Danbury; Los Angeles; New York City; Minneapolis/St. Paul; Syracuse; and Washington, DC.
"Mom bloggers and their children have created original, fun, moving ways to do good in their local communities and we are awed by the potential of so many trusted, powerful online voices doing good together, all on the same day," said Cooper Munroe, co-founder of TheMotherhood.com
Concurrently, on Wednesday, July 14, 2010, teams of mom bloggers in each city will do good in 'pay it forward' kinds of activities, including:
• In Chicago, the Do Good Day team will visit Ronald McDonald Houses to prepare meals for the families and provide activities.
• In New Jersey, the mom bloggers will set up a "thank you station", giving people an opportunity to take a few moments to fill out a post card and thank a soldier and/or veteran. They will incorporate fun activities for kids, like face painting, tattoos, etc.
• The L.A. team is heading to Seaside Lagoon, a family beach in Redondo Beach, CA, to pay it forward by making get well cards for the children at Children's Hospital of Orange County. For every get well card made, kids will receive a 77Kids list of good deeds that can be completed for $1 along with a crisp one dollar bill to pay the good deed forward. Cold Stone Creamery and Ruby's Diner have partnered with the 7 member L.A. blogger team to reward children participating with ice cream and kid's meals.
• Team Philadelphia will be "Brightening Someone's Day" at a retirement community to hand out flowers and other goodies to the residents and deliver special crafts that represent what a parent/grandparent means to the mom bloggers and their kids.
• In Pittsburgh, the Do Good Day team will assemble backpacks filled with school supplies and a "mini mission" (a thank you card and stamp, with instructions to write and send thank you note to someone deserving; paper, crayons and a pre-addressed envelope, with instructions to draw a picture and send it to a resident of an assisted care home, etc.).
Do Good Day is timed to the grand opening of 77kids stores in five cities: Pittsburgh; Cherry Hill, NJ; Danbury, CT; Syracuse; and the Mall of America.
About TheMotherhood.com
TheMotherhood is both an award-winning online community for mothers (www.themotherhood.com) and an agency that conceives and executes highly effective, targeted brand campaigns for moms. The Motherhood has strategic alliances with close to 10,000 active and connected mom bloggers across the country and sparks positive, on-going, two-way conversations between moms and brands and mom-to-mom. The web community, TheMotherhood.com, was a finalist for a Webby Award in 2009 and 2010.
About 77kids by american eagle
77kids by american eagle® offers on-trend, high-quality clothing and accessories in sizes up to 14. American Eagle Outfitters was founded in 1977, which is the inspiration for the 77kids® name. The brand draws from the strong heritage of American Eagle Outfitters, with a point-of-view that's thoughtful, playful and real. Like American Eagle® clothing, 77kids focuses on great fit, value and style. 77kids by american eagle® is opening its five stores this summer.
Unique store design elements include games projected onto the floor to entertain kids while parents shop and interactive touch screens where customers can:
• See their reflection in a special mirror and interact with a make-believe world of animated characters.
• Select key 77kids outfits which will appear virtually on the user like a digital paper doll.
• Play DJ and eventually select music to be played in the store.
• Pose for photos, which can be customized with personal messages and graffiti, then printed at the checkout area to take home or post in the store.
For more information:
Do Good Day Circle on TheMotherhood.com (visit TheMotherhood for a list of the bloggers)
77kids on Facebook
Contact: TheMotherhood, co-founders
Cooper Munroe Emily McKhann
412-779-9829 917-750-9786
Share and Enjoy